News
Merry Christmas and a happy new Year 2024.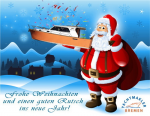 looking back at a successfull year 2023 we would like to thank you for the confidence you have placed in us and for the plenty of nice discussions around our boats. It was a pleasure to work with you!
We wish you and your familys a Merry Christmas and a happy New Year 2024.
Please note that from December 20rd 2023 till January 7th 2023 our office will be closed.
From January 8th 2024 we will be back in the office looking forward to meet you!
Yours YACHTMAKLER Bremen Team
3 new Jeanneau Models for 2023 season!
Jeanneau has been distinguished by its unique family spirit for over 60 years and more than 250,000 boats sailing the world.
For the 2023 season, the shipyard has developed no less than three new models.
JEANNEAU MERRY FISHER 1295 FLY
JEANNEAU CAP CAMARAT 10.5 CC
JEANNEAU YACHTS 55
The Merry Fisher model range, rich in tradition, is being extended with a new flagship: the Merry Fisher 1295 Fly.
A boat with outboard engines, the quality of which is evident down to the smallest detail.
Her beautiful interiors and exteriors with newly designed hull windows promise unforgettable cruises with the whole family and embody all Jeanneau's know-how.
The new Cap Camarat 10.5 CC is the only 34-foot centre console boat to offer 4 full berths.
This new boat from the Jeanneau Cap Camarat series with outboard engines is designed for a wide range of activities such as water sports, fishing or comfortable cruising. The design is once again unique.
The Jeanneau Yachts 55 opens up a whole new cruising perspective. This 17-metre sailing yacht is based on an ingenious, extroverted and novel interior design concept focused on the well-being and absolute privacy of its owner.
World premiere at the Boot in Düsseldorf in January 2023!
NEW OFFER!!! BOOTSTEPPICH24.DE by YACHTMAKLER Bremen GmbH
In discussions with customers, we noticed more and more often that many of our customers want to redesign their boat carpets individually.
The idea for BOOTSTEPPICH24.DE by YACHTMAKLER Bremen GmbH was born.
Now we look forward to your inquiry and to implementing your "new boat carpet" project with you.
Yvonne and Thomas Thiel
For further information, click here...
»
WWW.BOOTSTEPPICH24.DE