When viewing the video, anonymous usage data is transmitted to Youtube. Yachtmakler Bremen has no influence on that. By starting the video, you agree to the Terms of Use of
Youtube
.
Yachtmakler Bremen – Thomas Thiel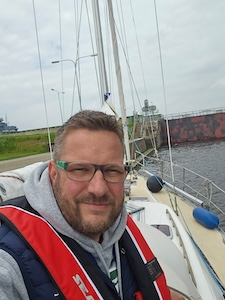 Yachtmakler Bremen is an young and innovative enterprise founded by Thomas Thiel in 2013.
Thomas Thiel was born on April 7th 1977 in Rostock, Germany, as the youngest son of a maritime family. His father brought him to the Baltic Sea and harbors' since he was a child that's how his affinity and close contact to water sports came from.
After Thomas left school he started his educational training at the Deutsche Bahn AG and finished it successfully. So he was taken over to his first job at the Deutsche Bahn AG directly. He got a responsible position and became representative of the hole trainee and youth association of the Deutsche Bahn AG of approx. 2.500 trainees.
He continued his career at the Deutsche Bahn AG and became manager of the Bremen office to coordinate and to manage the 55 employee association.
But after a few years he withdraw back to his basics and he started his career as sales manager for boats at the Marina Oberweser. Here he learned a lot about sales and also got a big knowledge about motor boats, sailing boats and also engines and all necessary equipment.
At Marina Oberweser he sold more than 100 new and second hand boats, mostly of the well known brand Quicksilver.
With his growing knowledge as sales manager his objectives changed and in 2013 he finally got self-employed and founded his own company YACHTMAKLER Bremen for new and second hand boats and with his own charter fleet in Bremer Europahafen in Überseestadt directly to the European Marina.
Then Thomas Thiel became partner of the well known shipyard Jeanneau and gained a lot of experience with the motor boat and sailing boat ranges of Jeanneau.
End of 2014 Thomas Thiel started the collaboration with the well respected shipyard Drettmann Yachts GmbH in Bremen.
This positive new partnership brought a lot of new experiences with new and second hand boats over 50 feet.
Beginning 2017 the new office in Bremen Hemelingen, Hemelinger Hafendamm 20, 28309 Bremen was realized. Next to a nice office YACHTMAKLER Bremen offers now its own heated show room and a partner garage next door – that all necessary service works can be offered.
YACHTMAKLER Bremen is authorized dealer for JEANNEAU boats, Yamaha and Mercury engines and beginning of 2018 the dealership of GLASTRON Boats will be taken over.
Thomas Thiel: "I really like my job as yacht broker and stand behind it for 100% and more. It is my absolute dream job. At my daily work I have the chance to meet a lot of interesting people and to work closely with my clients satisfies me!
For me my clients always stand at first stage. From the first meeting with the client until hand over of the new boat I always care for the clients requests. Also after closing the deal I am up to clients requests around his new boat offering qualified after sales service with business partners.
I am looking forward to the new project!
Please do not hesitate to contact me!"
Yachtmakler Bremen - Yvonne Thiel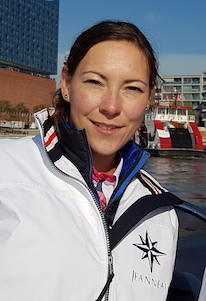 Yvonne Thiel was born 1988 in Achim near Bremen growing up in her loving family which is affine in watersports since two generations. With six years old she got her own little optimist sailing boat starting sailing on the river Weser. As teenager she switched to a 420 and laser sailing dinghy and now to the motor boat Christo Mare 31.
After graduating from school with a perfect certification Yvonne Thiel started her trainee at the Drettmann Yachts GmbH Bremen in 2006. After shortened trainee time she started her career as assistant of the CEO in sales and marketing and got special knowledge in yachting and superyachts and also received a lot of experience in international boat business.
After her marriage in August 2015 with Thomas Thiel and the birth of their son Tom in September 2015 they both decided that the idea working together should be realized soon.
In teamwork it is now the common goal to lead the company YACHTMAKLER Bremen and to represent the international known brands JEANNEAU and GLASTRON Boats.
Yvonne Thiel: "I growed up with the hobbie watersports and I feel comfortable everywhere water is running and a nice breeze is blowing. Leading YACHTMAKLER Bremen together with my husband Thomas is a big task and I am very happy to undertake it!"